Archive for March, 2010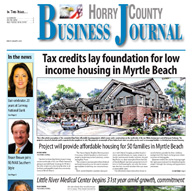 Bradley Development recently received a full page write-up in the Myrtle Beach Herald: Horry County Business Journal. This publication features important developments in business for our area. We are honored to have our Bay Pointe multi-family housing project featured.
The article focuses on the benefits of using Tax Credits in developing housing for low-income families. In a relatively volatile housing market, we've been fortunate in finding success with these types of investments. It's not hard to see the attraction.
Bradley Development is excited to share news of our renovation of the Carolina Cove multi-family housing community. This 100 unit community features 1, 2, 3 & 4 bedroom apartments, affordably priced (rates start @ $227!) and conveniently located. Just minutes from East Carolina University, as well as the city's Recreation & Parks area, this development makes perfect sense for a wide range of residents.
In addition to the fantastic location (that's everything, right?), there are a number of amenities that make this community attractive to families, students & more. Here are just a few: