March19
BRADLEY DEVELOPMENT IN THE NEWS: HORRY COUNTY BUSINESS JOURNAL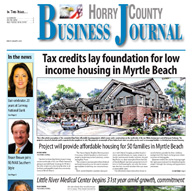 Bradley Development recently received a full page write-up in the Myrtle Beach Herald: Horry County Business Journal. This publication features important developments in business for our area. We are honored to have our Bay Pointe multi-family housing project featured.
The article focuses on the benefits of using Tax Credits in developing housing for low-income families. In a relatively volatile housing market, we've been fortunate in finding success with these types of investments. It's not hard to see the attraction.
The South Carolina Housing Authority provides these credits to developers like us, after due diligence has been done to ensure we're prepared to follow through with the project. The Low Income Housing Tax Credit (LIHTC) is giving a big boost to communities in need. Fortunately, officials on the State & County levels have been helpful facilitating this process.
The Bay Pointe development will house as many as 50 families, and is centrally located on Mr. Joe White Ave. What does this mean for families? Many who were used to fighting traffic, commuting from more rural areas, will get the chance to save on gas and rent. This is a part of our effort to give back to the community ~ Bradley Development understands that for our investment to prosper, so must the people we serve.