September04
PRESS: BAY POINTE IN THE SUN NEWS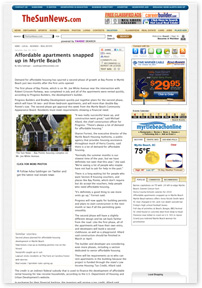 Affordable apartments snapped up in Myrtle Beach
By Adva Saldinger – asaldinger@thesunnews.com – Link to article »

Demand for affordable housing has spurred a second phase of growth at Bay Pointe in Myrtle Beach just two months after the first units opened.
The first phase of Bay Pointe, which is on Mr. Joe White Avenue near the intersection with Robert Grissom Parkway, was completed in July and all of the apartments were rented quickly, according to Progress Builders, the development's builder.
Progress Builders and Bradley Development quickly put together plans for the second phase, which will have 56 two- and three-bedroom apartments, and will more than double Bay Pointe's size. The second phase got approval this week from the Myrtle Beach Community Appearance Board. Residents must meet requirements showing a financial need.
"It was really successful lease up, and construction went great," said Michael Allard, the chief construction officer for Progress. "There's always a lot of demand for affordable housing."
Sharon Forrest, the executive director of the Myrtle Beach Housing Authority, a public agency that provides housing assistance throughout much of Horry County, said there is a lot of demand for affordable housing.
"Normally the summer months is our slowest time of the year, but we have definitely not seen that this year," she said. "We're seeing a lot of people who maybe have not had to ask for help in the past."
There is a long waiting list for people who want Section 8 housing vouchers, and places like Bay Pointe, which don't require but do accept the vouchers, help people who need affordable housing.
"It's definitely a good thing to see more units go up," Forrest said.
Progress will now apply for building permits and plans to start construction in the next month or two if all the permitting goes smoothly.
The second phase will have a slightly different design and be set back farther from the road. Like the first phase, all of the apartments will have their own entry, and developers will build a second clubhouse, as well as a playground. Allard said construction should be finished in March or April.
The builder and developer are considering even more phases, including a section dedicated to senior affordable housing.
There will be requirements as to who can rent apartments in the building because the project is funded through the state's Low Income Housing Tax Credit, Allard said.
The credit is an indirect federal subsidy that is used to finance the development of affordable rental housing for low-income households, according to the U.S. Department of Housing and Urban Development's website.
In exchange for their financial backing, the investors will receive a tax credit, Allard said.
Contact ADVA SALDINGER at 626-0317.